Chinese Translation of Sojourners in Guangzhou successfully launched in Guangzhou
The Chinese translation of Sojourners: the epic story of China's centuries-old relationship with Australia, translated by Prof Zhang Wei, Director of Australian Studies Centre of Shantou University, published by Sun Yat-sen University Press, is launched in Guangzhou this summer. This Friday, the Australian Consul-General Mr Dominic Trindade, Professor Zhang Wei, the translator, and Dr Mitchell Rolls, the son of author Eric Rolls attended the launch of this translation.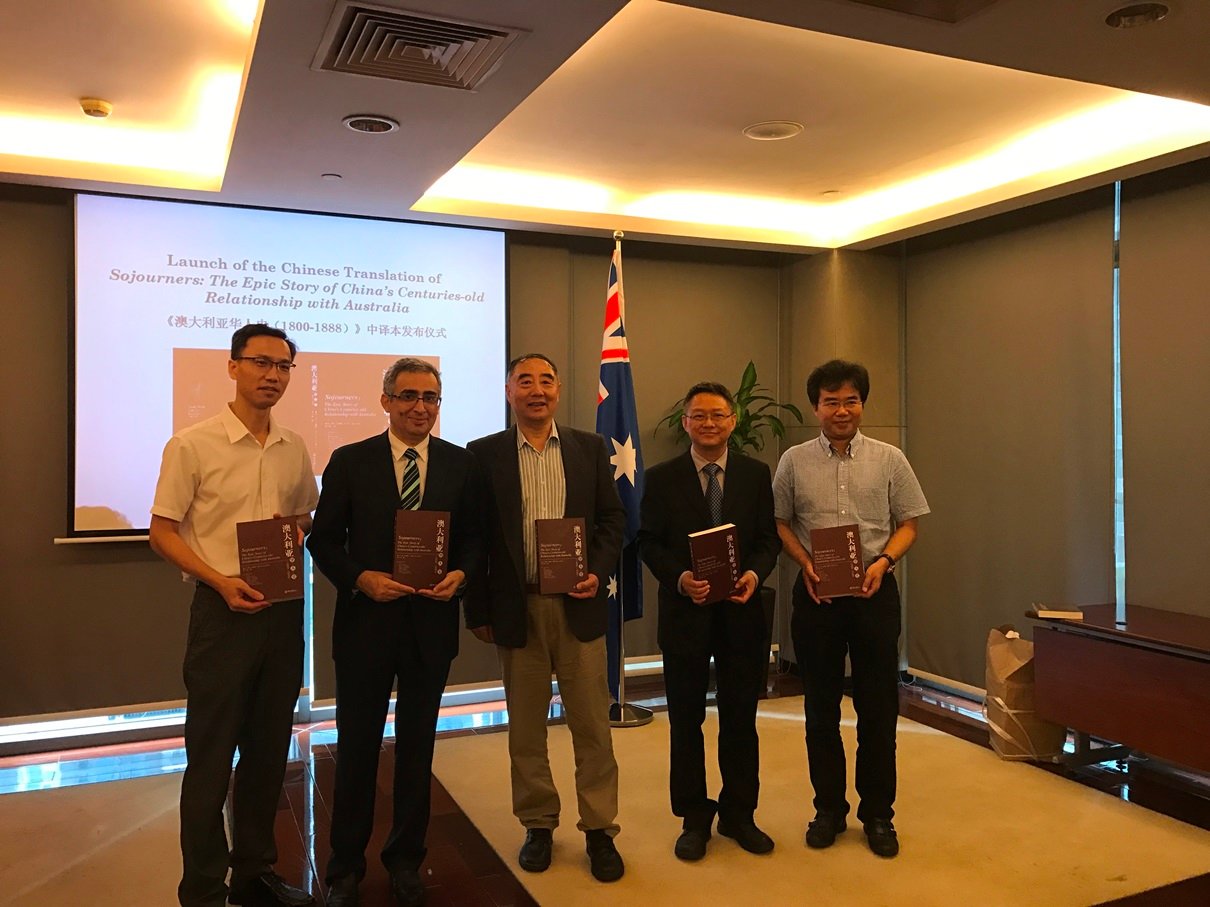 Sojourners: the epic story of China's centuries-old relationship with Australia, written by Eric Rolls, was published in 1992 in Australia. After 25 years, it has finally arrived in China to meet the Chinese readers. It is the second part of a series which began with Citizens: Flowers and the Wide Sea, also translated by Professor Zhang. Eric Rolls was a well-known award-winning writer in Australia and had particular interest in Australian Chinese history. In order to give a true description of the stories of those Chinese who went to Australia, Eric Rolls came to China and visited their descendants still in China. His unremitting and meticulous research led to the success of the book.
Professor Greg McCarthy, holder of the BHP Chair of Australian Studies at Peking University and the Chairman of the Foundation for Australian Studies in China Mr. Kevin Hobgood-Brown AM, said, "We regard the publication of such a prestigious translation as an important component of developing greater understanding between Australia and China. We reiterate our congratulations to Professor Zhang on the translation and we are sure many Chinese will obtain great pleasure in reading Eric Roll's masterpiece, Sojourners."
Sojourners not only records the story of Chinese in Australia in the nineteenth century, but also presents the profound connection and long lasting friendship between Chinese and Australian. This year marks the 45th anniversary of China's diplomatic ties with Australia as well as the 25th anniversary of Australian Consulate-General in Guangzhou. Ms Jan Adams, the Australian Ambassador to China, has written in her foreword: Yet, as Sojourners reminds us, the relationship between our two countries is centuries old. Moving between the past and present, Sojourners describes and illuminates how elements of Chinese culture have been woven into the fabric of contemporary Australia.
Professor Zhang, the author and translator of a number of books on Australia-China relations, is a three-time recipient of the Australia-China Council's Book Prize. His commitment to the Chinese-language mapping of cultural, social and economic relations between China and Australia has built a strong foundation for this important field of academic inquiry in China.
Dr Mitchell Rolls, the son of Eric Rolls, is himself an expert in Aboriginal Studies, and President of the International Australian Studies Association. He has made a great contribution to Australian studies overseas.
The publishing of the book will increase understanding of the Australia-China shared past and deepen the friendship between Australian and Chinese.